From the Convenor (Alumni 2014) 
Sixty years is a long time. It is the jubilee of jubilees…the "DIAMOND JUBILEE ".
To have been part of this journey is very special. Not only that, you have been the men and wo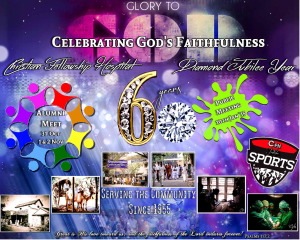 men who have contributed to this great odyssey in faith.
What Christian Fellowship Hospital is now, though it might not bear much semblance to the  days of old , is all because of you.
Sixty years is also an appropriate time to come together, share  memories, remember God's goodness and to say thank you God- for His faithfulness in the life:  not only of CFH, but all  ours too.
Many of us have been shaped, moulded , nurtured and equipped by our tarriance here.
Joyful it would be for us to come  together in unity! To thank God and also for us to thank  you all for your roles in building CFH. Joining  with glad refrain  to adore, praise and glorify our great God acknowledging him  in all our lives.
Our beloved Alumni, Welcome…..Welcome!!!!
Registration:
The dates of our Diamond Jubilee Alumni Reuinon are 31st October, 1st & 2nd November 2014.
Please use the website https://cfhospital.org/alumnus/registration/ to register.
Please fill in all the necessary information correctly.
If there are any other queries feel free to email us at

[email protected]

Food & Accommodation will be provided (prior intimation required).